El 14 de agosto de 1975 se estrenaba en Londres la película "
The Rocky Horror Picture Show
", basada en el musical "
The Rocky Horror Show
" que llevaba en los escenarios desde junio de 1973, año en que fue premiada como Mejor Nuevo Musical por "Plays and Players" y Mejor Musical por el "Evening Standard".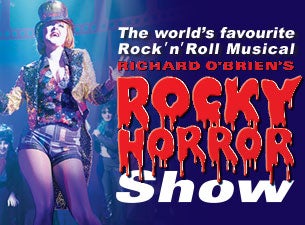 Desde entonces han pasado 40 años: el musical ha seguido en los escenarios por todo el mundo y la película se ha convertido en una de esas llamadas de culto,
fan club incluido
. Como tantas obras de culto tiene un nivel de conocimiento limitado; pero de forma muy especial ha dado lugar a fiestas en las que el pase de la pelicula se combina con la reinterpretación teatral y la participación del público que asiste ataviado al modo de los personajes y participa con una serie de acciones que se han ido estableciendo a lo largo del tiempo.
Es de suponer que en lo que queda de año tambien por nuestras tierras se celebre el aniversario de
Rocky
. Entretanto, os dejo un par de videos.... uno de presentación de la preparación de la convención de NYC y otro...